Run on Sun Store
Books…
Commercial Solar: Step-by-Step
In this book by Run on Sun Founder & CEO, Jim Jenal, you will follow the path of Jack Prince—the Facilities Manager for EnGex, a growing high-tech company—who is tasked with investigating whether solar is right for his company. Intended for solar professionals as a "calling card" for use with potential commercial clients, as well as building owners and facility managers, Commercial Solar: Step-by-Step demystifies the process of creating commercial solar installations and does so in a way that is engaging, entertaining and educational.
Click here to download an excerpt from Commercial Solar: Step-by-Step…
Then click HERE to order your copy!
Run on Sun Clothing and Swag…
Run on Sun Baseball Cap
Show your love for Run on Sun while wearing this oh-so-stylish baseball cap! Just $20 plus shipping and handling.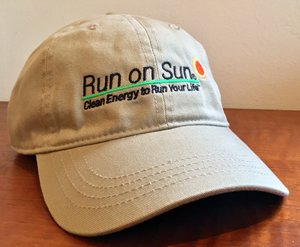 Run on Sun Bumper Stickers
In this political season, wouldn't you rather sport a bumper sticker promoting your favorite solar company? We thought so, and best of all, they're free!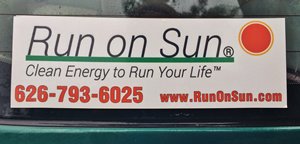 Heading for the C Block...
Text to always display...
Text to be displayed only when requested...
Read more...
Close