The Run on Sun Difference…
Our commitment to you, our Potential Client
Our difference begins with our personal commitment to you, our potential client:
We will answer your questions—all of them. If you don't understand something, we haven't done our job.
We will give you our candid appraisal of your site. Unfortunately, not all sites are good candidates for a solar power system. If that is the case with your site, we will tell you. We will also provide you with suggestions for any possible improvements to your site.
We will never pressure you to buy more than you need. Installing a system that will completely zero-out your electric bill often does not make economic sense, but that is what some companies will try to sell you. We will make sure that you have enough information to make an economically sound decision.
The quality of our work will be second to none. We do not take shortcuts with your system. We understand that you are making a major investment, and we want you to be happy with your Run on Sun solar power system for the next twenty-five years.
Unique Technical, Business, and Legal Expertise. We differ from many others in the solar industry in that the founders of Run on Sun are entrepreneurs, businessmen, and engineers who seized the opportunity to leverage their business, legal, and technical expertise to create a better solar company. We saw others who were either roofing or electrical contractors trying to do engineering of sophisticated systems or larger solar companies undermined by unknowledgeable salespeople and the questionable work of poorly managed sub-contractors.
The experience of one of our friends was also compelling for us. For him, it took one full year to get a solar system completely installed by one of the best known solar companies in the U.S., and even then it did not work properly. Another had a salesperson who said that volts, watts, and amps were all the same. This convinced us that there had to be a better way to do business.
Mission Statement
Run on Sun is committed to promoting renewable energy use by providing the highest quality, properly engineered photovoltaic solar power systems. We do this by communicating honestly with our clients and ensuring them properly engineered systems, quality installations, and ongoing service and maintenance after the sale.
Run on Sun—Certified Better!
Not all solar installation companies are mission driven. Sadly, some are more interested in generating a sale than they are in your ability to generate solar energy with a reasonable return on your investment. As a result, some companies sell solar power systems that are oversized or poorly designed. Other solar companies simply lack the experience and expertise to provide a proper solar installation that will perform trouble free for years.
At Run on Sun we believe a different approach is needed.
NABCEP Certified PV Installation Professionals™
A key difference lies in Certification by the North American Board of Certified Energy Practitioners (NABCEP). What does that mean to you? As NABCEP notes:
When you hire a contractor with NABCEP Certified Installers leading the crew, you can be confident that you are getting the job done by solar professionals who have the "know-how" that you need.
They are part of a select group of professionals who have distinguished themselves by being awarded
NABCEP Certified Installer credentials.
All three of the Core Team Members at Run on Sun have earned the coveted designation:
NABCEP Certified PV Installation Professional,™ and all of our projects are led by one of these NABCEP certified solar pros.
Meet the Team…
With backgrounds in science, contracting, public health, engineering, consulting, business and law, our team members embody every expertise needed to work with clients, suppliers, regulators and government officials to get you the specific solution to meet your needs.
Jim Jenal: Chief Executive Officer, Founder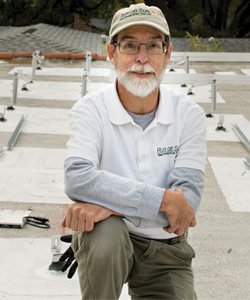 Jim Jenal founded Run on Sun in 2006. As its CEO, he has authored the company's blog, Thoughts on Solar, since 2009, and he has been quoted on solar policy and the state of the solar industry in media such as the Los Angeles Times, the Wall Street Journal, and the Guardian, as well as in numerous trade publications.
A NABCEP Certified PV Installation Professional™ since 2010, Jim also holds degrees in Mathematics, Computer Science, and Law.
He is the author of the book, Commercial Solar: Step-by-Step, which lays out in detail the process of implementing a commercial solar power system from selecting a contractor all the way through to going live.
Jim lives in Pasadena with his wife, Leslie. Their daughter, Julian (the former Solar Kid), is a graduate student at CGU, where they has absconded with the aspirationally named dog, Prosper.
Velvet Dallesandro: Consulting Electrician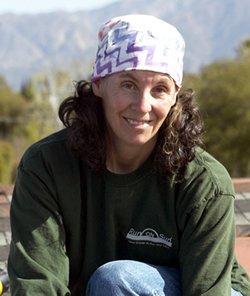 Velvet earned her certification as a NABCEP Certified PV Installation Professional™ in 2010, and is a C-10 licensed electrician with nearly 30 years of experience in the electrical trades and two decades of experience in solar power installations, dating back to the LADWP solar carport project in 1999.
Velvet worked with Run on Sun for ten years and helped establish our reputation for work of the highest quality, a tradition that we carry on to this day. Now Velvet makes her knowledge and expertise available as needed.
When not working, Velvet travels the world, drawn to distant locales often overlooked by most tourists, particularly in the former Soviet republics or anywhere that ends in 'stan'.
Sara Pavey, Consulting Designer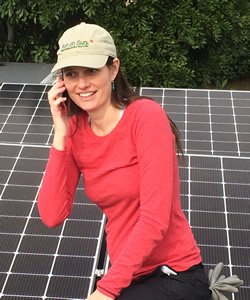 Sara Pavey served as Run on Sun's Projects Coordinator for two years before moving to her dream location, Portland, Oregon. From the respite of that beautiful spot, Sara works with us in creating permit packages for our projects.
Much of Sara's hands-on solar installation experience -- apart from her work with us -- has been through GRID Alternatives, a nationwide non-profit that installs solar on the homes of qualified people, similar to Habitat for Humanity's program.
Sara holds a degree in Mechanical Engineering, and when she is not showing AutoCAD who is boss, you will find her exploring the beauty of her Oregon surroundings with her husband and two, getting bigger quickly, kids.
Josh Sanchez: Consulting Installation Manager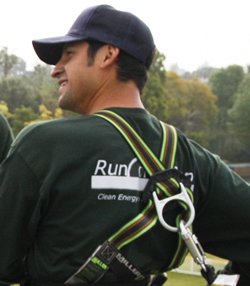 Josh earned his certification as a NABCEP Certified PV Installation Professional™ in 2008. He holds a degree in Fire Science, and is a C-10 licensed electrician.
For the past decade, Josh has focused his work on, and specialized in, solar—in fact, if you come across a great-looking solar installation in Malibu, that is most likely Josh's handiwork!
When Josh isn't working to help the world go green, he spends his time outdoors surfing, downhill mountain biking, and playing soccer.
Team trivia…
Everyone knows that the Run on Sun Team is comprised of true Solar Pros.
But do you know…
Run on Sun was incorporated as Nopec, Inc. What does Nopec signify?
What member of the team taught High School for six years?
What member of the team is the proud parent of a newborn and two toddlers?
What member of the team graduated from the "best college for any major, anywhere"?
What member of the team was born in Ohio?
What member of the team regularly is caring for one or more rescue dogs?
What utility hired Run on Sun to evaluate the performance of older solar power systems in their service area?
Here are the answers to the trivia questions…
Nopec signifies "No OPEC"—a name we loved until a colleague convinced us we were asking people to work way too hard!
Jim taught Math and Computer Science at Mayfield Senior School for six years.
That one is Josh—he and lovely wife Lani are the proud parents of Izabel, a/k/a Izzie, little sister, Lilah, and newest addition, Eli.
That would be Sara, who is a proud Cal Poly San Luis Obispo Mechanical Engineering alum and is pretty sure there is no better college anywhere for any major. Anywhere. Ever. She is not at all biased. Go Mustangs!
Velvet was born and raised—and began work as an electrician—in Ohio. She prefers the California weather.
That would also be Velvet, whose care and compassion for animals inspires us all.
Pasadena Water & Power contracted with Run on Sun to look at these systems.
Trivia question answers…
Close
Testimonials
As a local company, we live or die based on how we meet our clients' needs. Do great work, and the word spreads. But if you cut corners, well, that word will spread, too. At Run on Sun, we aren't satisfied until our clients are thrilled with the work we have done for them. How are we doing? Decide for yourself…
Here is what our Clients say about Run on Sun…
Elizabeth McGregor, Head of Westridge School, Pasadena—"What we loved about Run on Sun was the fact that they are very mission driven and really delivered everything that we had asked for, worked with us very professionally, and now not only do we have something that is helping us consume less energy, but it is something that we know we can really use with [our students]."
---
Jeanine, Altadena—"The Run on Sun team did a terrific job providing solar power to my home. I received detailed information and status reports throughout the project. The entire Run on Sun team is top notch: reliable, on time, efficient and clean! And the best pay-off: my electric bill was $0.87 this month!
I chose Run on Sun because of their reputation for excellence in the industry, someone I could trust and someone local."
---
Jane T, Pasadena—"I am very pleased with the solar array installed by Run on Sun. I was impressed with how straightforward they made all the interactions with PWP, their neat, professional workmanship, and their willingness to accommodate our schedule. I've been pleasantly surprised with the amount of power generated by the system even in the dark days of December, and I'm looking forward to years of lower electricity bills."
---
Michael M, Pasadena—"We had Run on Sun install our solar panels on our home in Pasadena and couldn't be more pleased. They dealt with the city on our behalf, we did not have to do a thing. The installation was quick and they made sure our rebate was processed quickly. We got several quotes and Run on Sun was very comparable to the industry. Our electric bills are so small, we are elated!"
---
Christopher M, Los Angeles—"Jim installed solar panels on our house and did a fabulous job. He was efficient and trustworthy. He effectively dealt with the LA legal system, despite their inefficiencies. I'd definitely recommend him to anyone looking for some panels!"
---
Matthew S, Pasadena—"We spoke with 3 other solar panel installers before we decided to use Run on Sun. Jim looked at our utility bills and quickly figured out the best system and configuration to suit our needs. Jim and his crew were easy to work with, knowledgeable, and dependable. There were no hidden costs and he stuck to his original quote. We are very pleased with our solar panels and would happily refer others to Run on Sun."
---
Lauren McC, Los Angeles—"Run on Sun is an honest company that prioritizes the experience of their customers above all else, even at the expense of their own profit. When I contacted Jim Jenal from Run on Sun to see if a solar panel installation would be a good option for my home, Jim immediately responded to my inquiries and scheduled a site visit. He spent an hour inspecting my home, reviewing my electricity usage, and explaining the technology behind solar. In the end, he recommended that I NOT install solar panels due to my energy consumption and other factors. While other solar companies made bids and tried to convince me to install solar, Run on Sun cared more about whether or not I was truly a good candidate for solar.
Jim Jenal is honest, responsive, and generous with his time and knowledge. His company truly cares about their clients, and they will not convince you to purchase something that is not right for you. Without a doubt, I recommend Run on Sun for anyone interested in installing solar panels!"
---
Lisa N, Pasadena—"We liked them because of their thoroughness in describing the whole process and they presented themselves as an incredibly honest organization. Run on Sun has always been available. When we had a big windstorm a few years ago Jim called us and said he'd like to come and look at the panels to make sure it was still as it should be. That was amazing and we've had no problems. It's been the easiest thing we've done with contractors. Run on Sun is just fabulous."
---
Janet L, Venice—"I am quite happy with my decision to go solar, having chosen Run on Sun to do the installation. They are very professional in their work, very careful to install everything correctly and will not try to oversell what is needed for the project. They worked with LADWP to make sure that everything was done to the city's specifications."
---
Chris S, Rancho Cucamonga—"Jim installed residential solar panels on our house in 2012. He is exceptionally knowledgeable about not only solar installation and products, but about the global idea of sustainable energy and cost effectiveness. Prior to signing any contracts, Jim walked us through every step of the process, time line, and itemized costs.
During installation, Jim and his crew were prompt, professional and cleaned up completely at the end of each day (which I really appreciated). After installation, he presented us with a comprehensive, personalized binder containing pictures and all information regarding our project. Run on Sun monitors the performance of each panel remotely and contacts me if anything is amiss. We are able to track on our home computer as well. We have been up and running for almost two years without any problems. The savings on our electricity bill has been substantial and has made the investment well worth the initial costs. I would highly recommend Run On Sun Solar. From residential houses to big businesses, Run On Sun will provide reliable, quality solar energy."
---
Check out more testimonials and solar videos on our YouTube channel…
Media & Public Recognition
Run on Sun has been discussed and quoted in a wide variety of media and has been recognized for its contributions to the solar industry. Here's a representative sample…
Media
Recognitions
Solar Power World Top Solar Contractors, 2019
Solar Power World Top Solar Contractors, 2018
Solar Power World Top Solar Contractors, 2016
Solar Power World Top Solar Contractors, 2015
Solar Power World Top Solar Contractors, 2014
Solar Power World Top Solar Contractors, 2013