We spent some quality time on the exhibit floor, and at the social events, of July's Intersolar North America and here's our take.
Overall Impressions - Does Size Matter?
The show felt smaller, to be sure, and we didn't see anything that created a real "Wow" moment. (Possible exception, the mini solar race cars which were very cool, but they didn't really have much to do with anything.) With SPI looming in just a few short weeks in, wait for it... Las Vegas Man™… it was hard to shake the feeling that manufacturers were keeping their powder dry until October.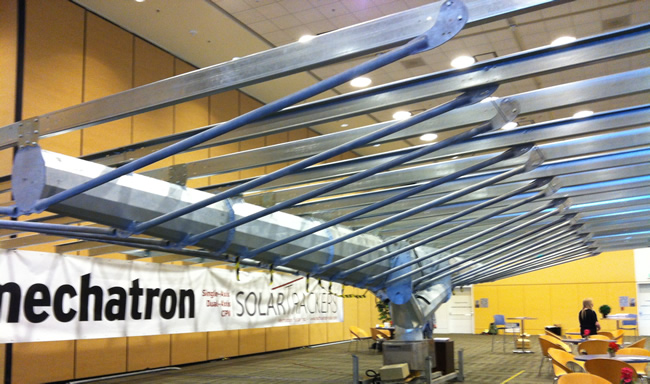 Of course, not everything was smaller.
The folks at Mechatron won the prize for the largest solar device at the show—an enormous solar tracker (which we were told took them a day and a half to assemble inside the hall!)—that has more than a bit of a Transformers feel to it.
Sadly it wasn't moving during the show...
Look Who is Missing?
Given the show's smaller feel you would expect some well known names to be missing and you would be right.
We are happiest to report that the number one no-show was last year's Sexism Public Enemy Number One: RECOM. Although they had a significant presence at Intersolar in Europe a month ago, they were nowhere to be seen at this show, and the folks from Intersolar confirmed that RECOM had originally booked a booth but then cancelled without explanation. Did they back out due to the backlash over their nonsense last year? We can only hope...
Inverter manufacturers Enphase Energy, KACO and SMA were all missing from the floor—although that's no surprise for Enphase who never shows at Intersolar, and who had a large presence elsewhere in co-hosting the Tweetup (thank you!) and the Solarfest.
SMA, although not on the floor did manage to take a swipe at its competition with this banner (that's a really, really big banner!) and a van parked outside touting their market dominance—in the past.

We are all for made in the USA, but what percentage of the show attendees were walking around with smartphones that were made somewhere other than the USA? Uh, pretty much everybody.

Not clear that this is a winning argument, or even SMA's best argument given that their TL inverters are a very cool product.
If your only presence is going to be a banner, why not tout an actual benefit of your products?
Opportunity missed.

Seeking Better Racking—with less Sexism
Our stated goal for the show was to identify a new racking supplier to replace our now discontinued standard (Unirac's late, great, Solarmount Evolution) and toward that end we spent a lot of time on the third floor where the racking suppliers hung out. Continuing the recent trend, there was a lot on display.
A study in contrast could be found between the displays at the Shoals and Schletter booths.
Both supply racking gear. Both offered coffee in the morning and beer in the afternoon. And both had attractive women handing out the drinks.

The difference?

The women at the Schletter booth actually work for the company (in a wide variety of jobs, other than marketing) whereas Shoals insists, defiantly, on promoting the Booth Babe culture with models in black cocktail dresses.
(Leading to scenes like this of guys standing around to photograph the models. Not sure how that promotes solar or Shoals' products.)
Still we did see racking systems that we liked. Iron Ridge has an interesting rail shape which they insist is stronger than other products, and their CEO, William Kim, seemed very eager to connect with installers and learn from their experience—something that other companies need to do!
But our overall winner at the show was Everest Solar Systems. Talk about learning from installers, all of their components are pre-assembled so the installer doesn't find herself on a roof missing a bolt. The parts work together in an intelligent fashion and seem designed to streamline the process on the roof where it matters.
For example, here is a picture showing their end clamp assembly (and attractive end-cap for the rail) and there are a number of features here to like.
To begin with, the clamp is extra wide giving you a firmer grip on the module. The clamp has a small spring inside which means that once inserted in the channel, the clip stands up at full height, making it easier to insert the modules under the clip. (The mid clamps also have this feature which we think is a great idea.) The black piece next to the rail is a plastic grip that the installer can use to position the clamp in the rail and turn to align it properly—another clever feature which should cut down on fumbling on the roof.
Equally well thought out are the splices (which do not use self-tapping screws, thank you) that provide structural strength while allowing for thermal expansion. Oh, and there's no drilling required on the roof!
We are eager to give the Everest system a try on an install very soon.
Storage on the March
As we have seen in previous years, enthusiasm for intelligent storage systems is high, while actual products are few. And even when a product is on display, it is not always clear that the folks talking about the product have really thought it through.
Take, for example, this potential offering from LG.
We say potential because this is really a concept vehicle, not something you can order now. Indeed, the decal on the box proclaims that the product will debut in Europe the second half of next year. Roll-out in the US is not slated until sometime in 2016.

More troubling though was, in our view, a misunderstanding of the nuance in this market. The box shown has a storage capacity of only 2 kWh—less than a tenth of the daily energy output of a 5 kW solar power system. How and when will that energy be deployed to assist the homeowner in reducing their bills?

In talking with the LG rep, we started to explain the differences between how you might use that energy under a tiered rate structure versus a time-of-use structure. Instead of being told that their software was designed to handle those differences, we got a mostly blank stare. Now that could simply be that the rep wasn't fully up-to-speed on how the box is designed to operate, but it was not encouraging.
What is encouraging is that electronics giants like LG are starting to get serious about this opportunity and from what we have seen from LG in the solar module space, we are confident that they can develop a compelling product offering—just not yet.
Meanwhile, last year's show standout for really grokking this space, Stem, was nowhere to be seen. Nor was their SoCal competitor, CODA. Perhaps both are keeping their chips in reserve, hoping to make a big play in Vegas at SPI. Watch this space.
Burning Down the House
Finally, we have two things to report under this topic—one cautionary, the other celebratory. Caution first.
Fire Code Chaos
Creeping up on the entire California solar market is the issue of Fire Code regulations that have the potential to bring things to a screeching halt come next January. We are still trying to get up to speed ourselves on this issue, but there were fire code regulations that were supposed to go into effect last January but were postponed because no one had a technical solution for meeting them. That postponement was for only a year, however, which means that come 1/1/15 we are subject to these regs.
As we presently understand the issue, roof systems are rated under classes A-C based on how resistant they are to an outside source of combustion (think of a burning tree limb resting on the roof), with class A being the most resistant. Solar modules on the market today generally have a class C fire rating. The new regs would say that where a roof system is required to be class A (as in high fire threat areas), all components on the roof must also be class A—but if there are no class A rated solar modules, such buildings would be unable to add solar. Moreover, even if a module were designated class A, it would still have to be tested with the roofing system to ensure that the combined system were class A.
If that weren't bad enough, there is an additional categorization pertaining to fire spread, and because roof arrays more than a few inches above the roof act like conduits for spreading flame, such arrays cannot pass the flame spread requirements. Yikes!
Both module manufacturers and racking reps that we brought this up with gave us a deer-in-the-headlights response initially (with the exception of Barry Cinnamon's Spice product offering), with some subsequently saying that they were working on the issue.
As noted above, we are still getting up to speed on this issue and we will have much more to say about it in the coming weeks. Watch this space.
Battling Bands - Again!
Finally, our Battle of the Bands karma continued to rock at Intersolar.
For those not in the know, the annual Battle of the Bands has two, parallel sets of competitors. On the one hand are the house bands from various solar companies who go head-to-head to see who will be crowned the best of the best. But just as fierce is the competition to get a ticket to the closed event!
Two years ago we got in on sheer force of personality (not ours, but that of Solar Fred) and last year Jeff (Solar) Spies' crew at QuickMount PV provided the ducket. But alas, not this year.
We were directed to another booth where there was a raffle we could join, but no luck.
Yet then, we turned the corner and found ourselves at the NABCEP booth where Sue Pratt was about to raffle off two tickets. We tossed our biz card into the bowl (complete with NABCEP Certified logo, thank you very much) and then crossed our fingers. When the first card pulled turned out to be a no-show, Sue dug deep—and pulled out our card! How cool was that? (We gave the second ticket to another installer who had just had his hopes dashed by our good fortune—gotta pay that Battle of the Bands karma forward!)
Lots of photos from the party (though oddly, many are strangely blurry—sorry about that Kathie & Jessica) but we will leave you with our favorite—may your karma be so good next year!