tl;dr - Come Rally with us on Thursday, June 2nd
10:30 a.m. in Grand Park, DTLA!
As readers of this blog know only too well, the California Public Utilities Commission (CPUC) had proposed - at the urging of the investor-owned utilities (IOUs), that is SCE, PG&E, and SDG&E - a new set of rules for how solar system owners would be compensated for the energy they put back onto the grid.  In a nutshell, that proposal would have pushed the payback period for solar systems to twenty years or more!  In an epic bit of organizing, our trade association - the California Solar and Storage Association (CALSSA) - kicked up a ruckus that was clearly heard in Sacramento, by getting folks to sign petitions, issue public comments, testify to the CPUC for six hours straight, and two very loud, very colorful rallies in San Francisco and here in LA.  (If you missed that, you can read about the LA rally here.)
Thanks to those efforts, the original proposal was pulled back.  But that didn't win the fight, as the CPUC is still talking about a Solar Tax that would destroy the value of rooftop solar for most Californians.
That's why it's time to lace up your protest shoes and attend the...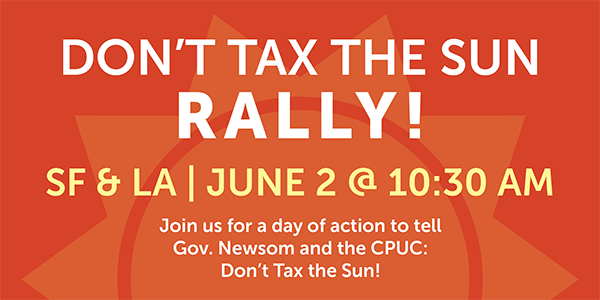 We need to more than double our impressive turnout from the last two rallies.  That means we need you!  And your kids.  And your friends.  And your kids friends - get the picture?
In case you need more detail - really, this is only about saving rooftop solar in California, so I wouldn't think too many more details would be required but - let CALSSA's Executive Director, Bernadette Del Chiaro, give you the Word:
On May 9, the CPUC took an unprecedented step of effectively issuing a new decision in the form of 14 questions. Those questions broke five months of silence, pulled back the curtain, and revealed what the CPUC is still thinking: tax solar and send the value of exports over a cliff. The CPUC has essentially floated a trial balloon to see how much push back they will get for proposing a solar tax (by a different name) and repackaging the solar cliff to make it sound nicer (ACC "plus"). Our job is to push back. Hard. Loud. Once and for all: No solar tax. No solar cliff. Not in California. Not now.

We need thousands of you. RSVP here.

Why June 2? For starters, because silence is acquiesce. Think about it. The State of California just floated a proposal to tax the behind-the-meter use of solar energy, again. Every day that goes by in which people aren't reacting appropriately (i.e., freaking out), is a day in which the message back to our government is one of acceptance. That is certainly not our reality. If we could have, we would have rallied on May 10!
 
Another reason to rally on June 2 is because the CPUC has literally asked for our reaction to their "new" ideas: tax behind-the-meter solar consumption to the tune of $600 per year for the average customer (NOTE: the tax is not limited to the residential market – commercial market you could be caught up in this tragedy, too) and tie export values for everyone to the Avoided Cost Calculator which they have refused to adjust for the rising costs of natural gas, the crisis in the utility-scale market, and the demands of electrification. The CPUC has asked for our reaction by June 10. June 2 is simply the closest date to June 10 at which the CPUC is holding a meeting. The next meeting of the Commission is June 24 which would be too late.
 
Finally, there is never a good time to leave the office and come down off the roof. Collectively, we build more than 400 solar systems a day in California. That's a lot of activity. And, with all the disruptions to supply chains along with the increased urgency due to this very campaign (ironically driving more people to solar than if they had promised to make gentle and gradual changes from the get-go), our days are busier and more complicated than ever. I get it. But what's far more inconvenient and costly than shutting down your office for one day is closing your business or laying off half your staff in 2023 because the CPUC got NEM 3.0 horribly wrong. A stitch in time saves nine. Let's save our market. RSPV now.
 
Finally, you might also be wondering why we should rally. Aren't there other ways to make our voices heard? Of course the answer to that is, yes, there are many ways to make our voices heard. We are and should continue to speak out through petitions, letters to the governor, testimony that is being written by Brad now (to be submitted June 10), through media (like this question to Governor Newsom by Politico reporter last week), social media, and so much more. But to really be heard, we need to generate media attention too. We need to get on the nightly news and on the pages of the newspapers. Because when we do that, millions of voters hear our cry and we already know those millions are with us on the issue. 
 
It comes down to you reading this message and deciding to join the fray, the fun, the action. So, please join us in either Los Angeles or San Francisco on June 2. It will be worth your time. It will be fun. You'll be glad you did it.
 
As always, email me with questions or comments.

p.s. Many people like to theorize about the likelihood of a Democratic governor in a pro-environment state harming the darling of the clean energy economy: solar. Putting aside the lack of understanding of how politics really works up here in Sacramento (hint: follow the money toward the path of least resistance), my ask to you is this: don't leave this critical decision to political theory. Your active involvement in this campaign – most importantly joining us June 2 – will help make sure we win in reality, not just in theory. Let's not leave anything this important to chance. Join us. 
This is up to us.  This is our fight.  Get in the game, people!  See you on June 2nd!