They say all good things come to they who wait - and boy have I been waiting for this day for a long, long time! But Enphase has finally released their much anticipated IQ8 microinverter - the first device that can provide "Sunlight Backup" without batteries! Here's my take...
Long Time Comin!
Those of you who follow this blog know that I have been writing about the IQ8 microinverter for almost forever, starting with this piece from August 2018, titled "What I saw at Enphase - Mind Blown!"  Back then I was fortunate enough to get to visit the Enphase lab in Petaluma and got to see a demonstration of what Enphase is now calling "Sunlight Backup" - the ability for your PV system to continue to operate when the grid goes down.  While I wasn't allowed to record the demo, Enphase, to mark the public release of the IQ8, has posted the following video which illustrates the concept quite nicely:
This is the wow-factor for the IQ8 - when combined with an automatic transfer switch for code compliance - if the grid fails during the day, your PV system with IQ8s on the roof will continue to produce power, no batteries needed!

Of course, there are a few caveats: during the day the output from your PV system will fluctuate based on prevailing conditions.  For example, it rained like crazy here yesterday - and the power went out!  How much value would the PV have been then?  Not too much.  However, today the sun is shining like crazy and the weather is cool, the air clean - outstanding day for solar production.  Go ahead, take down the grid, we'll be just fine!
And a word about code compliance.  The anti-islanding rules that require a grid-tied PV system to not export power to the grid when the grid fails, are still very much in force.  After all, we want our systems to be safe for all involved.  So to meet code, you need to also install an automatic transfer switch, which Enphase is now calling the IQ System Controller - FKA Enpower - into your system.  But the IQ System Controller costs a fraction of what the actual storage components do, so this is a way to have some power during the day at minimal additional cost!
As this video nicely demonstrates, if you have too many loads turned on when the grid fails, the microgrid cannot start.  But as soon as you shed sufficient loads, the microgrid will form instantly, all on its own.
Enphase has put together a pretty good chart (albeit kinda small here, but click on it to see it full size) that shows the components needed to achieve different capabilities: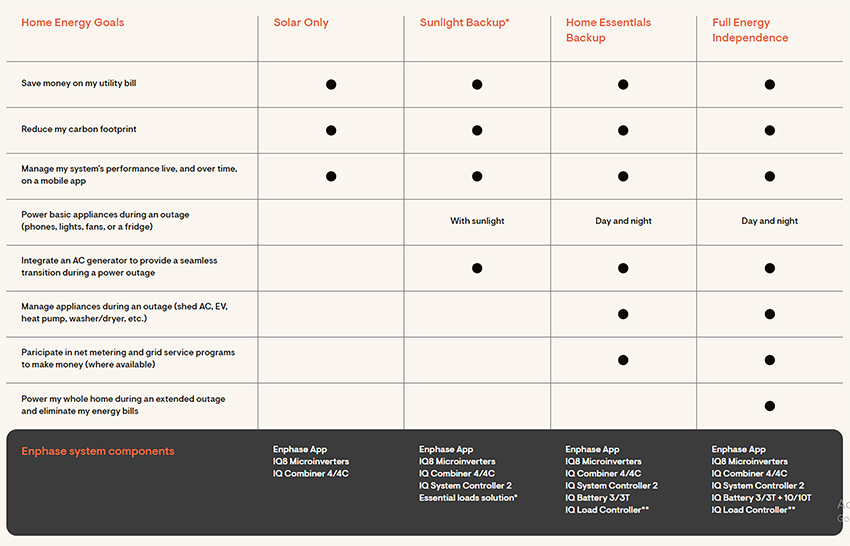 Solar Only is what we have been doing for years.  Home Essentials Backup, aka partial-home backup, and Full Energy Independence, aka full-home backup are what you get when you add storage.  But Sunlight Backup is what IQ8 brings to the party!
Please don't keep-a me waitin...
So when can we put these on your roof?  Well not today, that's for certain.  We are being told that we will see shipments toward the end of December.  (Of course, if they are coming into the ports of either LA or Long Beach, we could be waiting for months!)   First quarter of next year is likely a safer bet.  Still waiting to see firm pricing as well, but figure something like 25% higher than the comparable IQ7+ that we have been installing for the past two years - and without a single unit failure!
The wait is almost over - watch this space!