It is hard to believe, but the First Earth Day was fifty years ago! A lot has changed since then, but too much hasn't! Here's our take...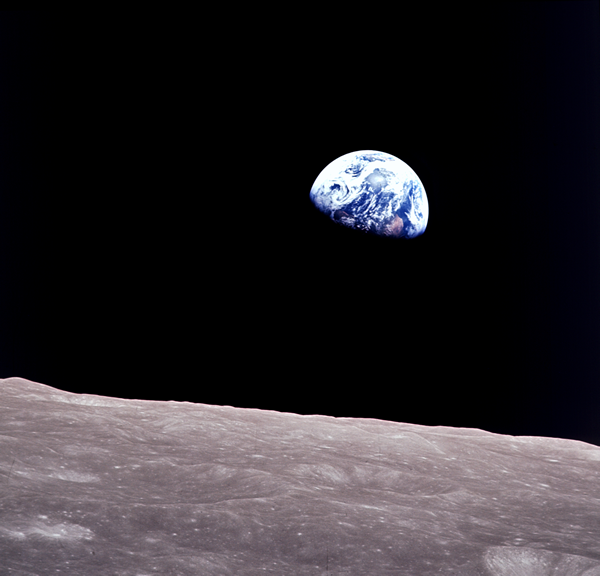 Earthrise from Apollo 8 - 1968. (NASA photo.)
I'm giving away my age here, but I was a high school student on that first Earth Day and was heavily involved in environmental causes, so the notion that people around the world would come together to raise consciousness about the damage we were causing to the environment was an eye-opening moment for me.  The need for change was so dire - air quality in Los Angeles was unhealthy much of the year, a river in Ohio was so polluted it caught fire, toxic chemicals were released into the atmosphere without concern for their secondary effects - that the task ahead seemed nearly insurmountable. 
The EPA did not yet exist (it was founded eight months later), nor did the Clean Air Act (also later that year), nor the Clean Water Act (1972).  On this day fifty years ago, we were practically starting from square one.
Space flight in general, and the Apollo program in particular, had helped spur the environmental movement, as those first images of Earth from lunar orbit captured the public imagination in a way nothing else ever had.  Truly we were a small, fragile planet in the vast darkness of space, and with no Planet B - certainly not the Moon - people started to realize that we needed to change what we were doing if we were to live in a sustainable world.
In the decades that followed, much progress was made.  California pioneered the way in reducing smog-forming emissions from automobiles, and tough regulations eliminated the indiscriminate dumping of toxins into the air and water.  Air and water quality slowly began to improve, even as the population of the country increased by more than 50%.
To be sure, there were times of lapse, particularly when the economy went into a downturn.  In the early 1990's I was working as an air quality environmental advocate while California was experiencing a recession.  The constant refrain from the polluters - counterfactual but persistent - was that environmental regulations were "job killers" and that we needed to rollback standards to spur economic growth.  That argument was counterfactual because, as numerous studies proved, environmental standards actually were a net job creator, spurring innovation and job growth.
Fast forward to today.  Despite our progress, we have a long way to go, and for today's generation the threat of climate change dwarfs the challenges that were confronted fifty years ago.  
Added to that challenge is the sudden, virus-induced economic calamity that we are just starting to comprehend.  Already we are seeing anti-regulation forces and climate-change deniers try to use this crisis as a way of eroding the progress that we have made toward a more sustainable society.  The solar industry is not immune from that attack and we will have more to say on that in the coming days.  Suffice it to say that the forces of greed are never vanquished, and though, at times, we make progress against them, they are biding their time, looking for an opportunity to reassert themselves.  If we are not vigilant, this may well be such an opportunity. There will be time enough to write about where those alarm bells are clanging. 
Today, however, it is important to look back over these past fifty years, just as the Apollo 8 crew looked back toward Earth, and put into perspective what we have accomplished.  It took guts, perseverance, and maybe a little luck to achieve what we have.  With more of the same, we will overcome the challenges of this era.
Happy Earth Day!