As promised a couple of days ago, I went to Sacramento to lobby our state legislators about the value of solar and storage. Here is my report...
Our state trade group, the California Solar Industries Association (CALSEIA), organized (thanks to the awesome - and very loud voiced - Carter Lavin, et al., for the heavy herding) more than 150 cats, er, solar professionals, to descend upon the state Capitol and provide legislators with not only a human face behind the solar industry, but some of the passion for solar that makes this industry special.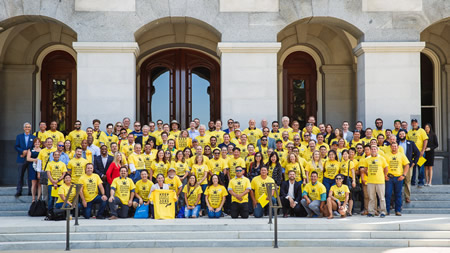 The mighty team assembled on the Capitol's West steps.
We were divided into 20 teams that went to - in my case - five different legislative offices. We had a number of agenda items, and our goal was to let legislators and their staffs know what we belive to be important going forward.
Here are the folks from my team:
Mark Miles - Team Leader - head of MMCI, a startup looking to improve solar thermal technology;
Jason Johnson - Synthesis Construction in South LA - a solar thermal/PV guy bringing the power of the sun to less-advantaged communities;
Harry Cartwright - Synthesis Construction - doing the sales/advocacy in South LA;
Stella Isbell - WESCO Distribution - a solar equipment distributor;
Felicia Lee - TerraVerde Renewable Partners - an energy analysis consulting firm.
Our first stop was the office of Pasadena's own Democratic Assemblymember Chris Holden, but he was nowhere to be seen. Nor was the person scheduled in his place. Instead, we met - in the hallway - with his Senior Assistant Elle Hoxworth, who despite the title, is very young. She was polite, but her answers about the fate of SB 700 - which would have created a rational rebate program for storage, but was killed by her boss earlier this year - were not helpful. While she insisted that Assemblymember Holden supported storage, he wanted to wait for a series of reports to be issued by the CPUC before acting - and those reports aren't even scheduled to be completed until the end of next year! It would be irresponsible to act now without the benefit of receiving those reports, she implied, and an unfair burden on ratepayers. In other words, precisely the utility's line.
Felicia pointed out that the ratepayers are going to pay either for incentivizing storage, or for more transmission lines to bring in the needed power from far away. Moreover, Assemblymember Holden should be on the side of the future, not the past. (Felicia was a passionate voice for the future all day!)
Bottom line here - our vision is not Holden's, and he is not likely to be swayed by us.
Oddly enough, we had more success at our next stop, at the office of Republican Assemblymember Harper from Huntington Beach. When Mark Miles talked about extending the rebate program for solar thermal, Assemblymember Harper shot back that if the price of natural gas was going to continue to climb, then no other incentive would be needed and the market would solve the problem on its own. (Ah yes, let's hear it for the "Invisible Hand!") I pointed out that the incentive is important because it empowers the consumer to take control over their economic future - they know what they will pay for their solar system (be it PV or thermal) and that insulates them from the whims of the marketplace. He at least nodded at that thought, and told us that he had enjoyed the meeting, and that we had given him some "new perspectives" to consider. Hard to know if that can morph into votes, but you have to start somewhere.
Next stop was Democratic Senator Portantino, who also represents Pasadena. We met, again in the hallway, with his Legislative Aide, Tara McGee. Tara assured us of the Senator's support for pretty much all things solar and took all of our information about our legislative agenda and promised to share it with her boss. This was the only meeting we had where we were assured of full support. (It was also the shortest.)
We then went to the office of Senator Steven Bradford, a Democrat from Gardena. We met with his Chief of Staff, Sue Kateley, who is the former head of CALSEIA! Needless to say, that makes her very well informed about solar issues, but it also means that she has strong views and can be difficult to persuade. One interesting exchange occurred when she observed that she didn't like tankless water heaters. That brought an illustrated response from Jason Johnson (he brought a binder of project images) who explained that the problem was with having the heater and solar thermal system properly sized - and that he has an engineer handle that for his company, not a plumber. "You use an engineer on every job?", Sue questioned "Every job," was Jason response. As we were leaving, I thanked her for her past service with CALSEIA, and she seemed taken aback before saying we were welcome.
Our final stop was at the office of Democratic Assemblymember Mike Gipson, and his Legislative Director, Jay Jefferson. While we were waiting for the meeting - we had been allotted exactly 15 minutes starting at 4:15 - a group of suits walked out of his office. The contrast between their corporate uniform and our colorful diversity was striking. Assemblymember Gipson was cordial, but it was getting to the end of the day and he was nodding off a bit. Felicia brought him back to the room with some powerful comments about the future, I made a pitch for supporting SB 700 next year, and Jason and his colleague Harry were able to explain to him the benefits of extending the thermal rebate program, and how that would be a boon to the poorer constituents in his South Los Angeles district. He was supportive, and Mr. Jefferson was taking notes about the points that we made. It was a positive way to end our round of meetings.
The day ended with a reception and the award of CALSEIA's Legislator of the Year to Democratic Assemblymember Jacqui Irwin, for helping to lead the way on a number of important bills this year.
All-and-all, it was a long but productive day, and it was great to see old friends and make new ones from the solar tribe.