Los Angeles doesn't have a great reputation for being green. Sadly we are better known as a car-centric city frequently afflicted with smoggy skies. In fact, Los Angeles is consistently ranked as having the worst air pollution in the nation.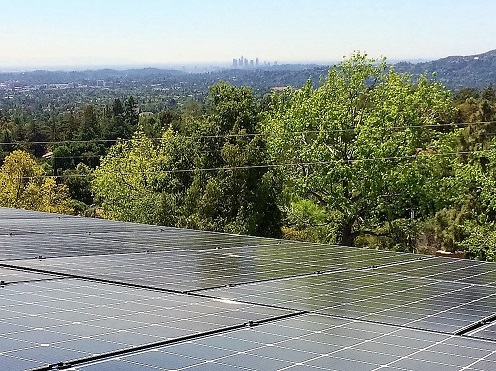 On a clear day…
Recently our fair city took one step closer to changing that! Last April the Los Angeles City Council voted unanimously to approve a motion asking the LA Department of Water and Power (LADWP) to develop a plan for how the city can move toward 100% renewable sources of electricity. LADWP - the largest municipal utility in the country - currently gets about 20-25% of its energy from renewables (solar, wind, geothermal, biomass and waste). The biggest challenge to going 100% green will be to convert from a grid which relies on coal and natural gas, which can adjust supply to meet demand, to one which can handle the fluxuations of solar and wind. The largest reductions in greenhouse gas emissions - nearly 9 million metric tons - will be through DWP's existing plan to eliminate coal-fired power plants from their energy mix by 2025. (Side note: Shockingly, Pasadena's energy mix coming from Pasadena Water and Power, has an extraordinarily high percentage of power coming from coal at 34% compared to CA average of 6% with no plans as of yet to move toward renewables! Hopefully they'll follow in LA's footsteps!)
Another 7 million metric tons of greenhouse gas emissions result from the remaining energy sources in LADWP's mix, largely natural gas. As we move away from coal we need to be careful to not be lured to just switch to cheap natural gas. Last year the Aliso Canyon gas leak disaster - the worst in US history - proved this fossil fuel is a very dangerous source of energy for our communities. 11,000 residents were evacuated and hundreds reported methane-related illnesses from the leak. Aliso released 100,000 tons of methane, which has a warming effect 80 times higher than CO2 over the short-term. Currently there are also natural gas storage facilities in Playa del Rey and Playa Vista. Obviously natural gas is a serious threat to our public health and the environment. If we are going to get to a fully clean power supply a commitment similar to the departure from coal needs to happen with natural gas... and the faster the better.
With a 100-year old grid supplying 4 million Angelenos with power, LADWP is poised to make significant infrastructure investments. This is the perfect opportunity for the city to upgrade the system to accommodate the potential for a fossil-free future. Councilman - and co-author of the City Council motion - Paul Krekorian, emphasized the urgency for Los Angeles to move to clean energy:
"This is an enormous step forward that will help restore our environment and lead us to a sustainable, fossil-free future. For the third year running, Los Angeles was ranked as having the worst air pollution in the country, which is unacceptable and unhealthy for our families and neighborhoods. To reverse this trend we need big thinking and bold, smart action."
While Mayor Eric Garcetti has already set a goal of reaching 50% renewable energy by 2030, this recent legislation is only a starting point to research how to get to 100% but has no set timeline. This is a crucial first step, however, we are really looking forward to hearing the results of DWP's research. A realistic but ambitious time-bound roadmap to ending our reliance on fossil fuels is crucial to improving our chances of preventing climate change's most damaging effects.
San Francisco and San Diego are also among eighteen other cities who have committed to 100% clean energy goals recently. Four cities are already proving it is possible with fully renewably powered systems! Los Angeles, as the 2nd most populous city in the country and most polluted, can serve as a particularly powerful role model for cities and jurisdictions across the country. These plans have the potential to both help stop devastating climate change impacts but also to boost economies in the process. Some opponents of a renewable transition worry that it will hurt the economy but the growth of renewable jobs in recent years and a growing local economy has proven that is a false threat. Last year's solar census reported that 10% of solar jobs - over 21,000 well paid jobs - are in Los Angeles! Going green saves money in the long-term. A report from the New Climate Economy found cities could save $17 trillion by 2050 by pursuing low-carbon solutions such as public transport, building efficiency, waste management and 'aggressive' solar implementation.
Now is the time to kick our transition to clean energy into high gear at local and state levels! We look forward to being part of the solution!