The windstorm that struck Pasadena late last year did tremendous damage - including to some solar power systems that were improperly installed by homeowners or now-defunct solar companies. Run on Sun was asked to help out two homeowners after the wind destroyed their solar power systems, and we have documented our efforts in a series of articles.
In part 1 of this series, we discovered the tremendous damage that can occur when an improperly installed solar power system is hit by a once-in-a-generation windstorm. In part 2, we figured out how the failure had occurred, and we learned that - shockingly - at least one solar contractor is perfectly OK trying to rip off an insurance company!
Having figured out what went wrong with the old installation, it was time to make it right! This article - and the video that follows - will introduce you to our homeowner and to the folks from Unirac who stepped in to help us get this homeowner back online producing clean, reliable and safe solar power!
It was great to work with the folks at Unirac and we are very touched by the sentiments expressed by Rachel.
Of course, that is always our goal - to leave our clients feeling that we have done more than what was expected, more than just what the job called for us to do. It is the little extra steps taken that not only insure a happy client, but a system that we can point to with pride.
Here's an image of the finished system: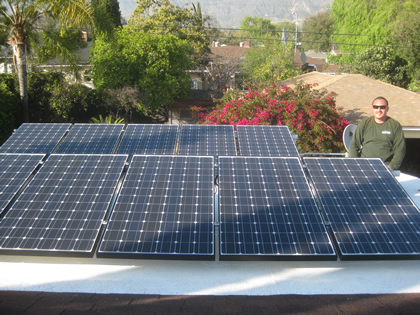 And here are some details - check out these clamps, especially the end clamp: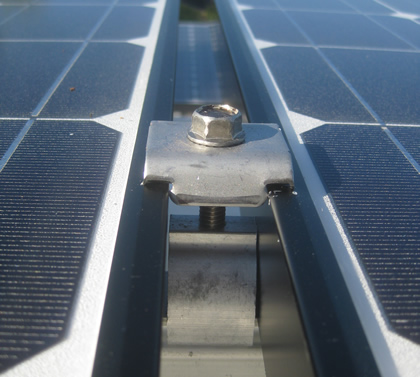 Unirac Solarmount Evolution Mid-Clamp between two Sanyo solar panels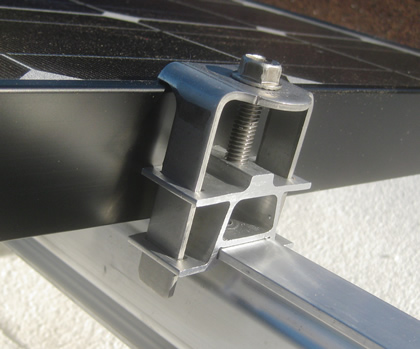 Unirac Solarmount Evolution End-Clamp holding a Sanyo solar panel
It is easy to see why Unirac calls this Solarmount Evolution because this product really has moved beyond what was available just a year ago. With gear like this, we are confident that these clamps will never allow a panel to separate from the rails - "come loose from its moorings" to quote Rachel - and thus, we feel that this is the safest system we have ever installed. This will be our new standard going forward.
Great job, Unirac, and thanks!