"Data, data, data, I cannot make bricks without clay."
Alone among the municipal utilities, and in a most welcome new development, LADWP has started to publish data from its Solar Incentive Program (SIP) which was restarted on September 1. Although this analysis is clearly preliminary given that there are only three weeks of data available in the 9/21/2011 working dataset, nevertheless some interesting trends are already evident and one clear necessity arises - LADWP needs cost caps even more than does CSI.
Background
In restarting the SIP, LADWP allocated $40 million in new funds, evenly divided between the Residential and non-Residential (Commercial, Governmental, Non-Profit) segments of the market. Although the program is technically a Step-driven program with MW allocations for each step, in reality, it is a budget-limited system - when the annual budget for a given segment is met, the program in that segment will shut down.
As part of their new and improved program, DWP has also started to publish datasets that are similar to, but different from the data gathered and released by the California Solar Initiative (CSI). For example, the CSI data reports on the specific products used on the project whereas the DWP data only identifies the manufacturer. Hopefully future releases of the data will correct this limitation. In addition, neither data set allows analysts to distinguish between costs associated with the actual installation versus lease-based financing costs which apparently a handful of companies - most notably SolarCity - include in their reported costs.
For the purpose of this story we analyzed DWP's most recently released dataset, dated 9/21/2011. That dataset includes data from both the so-called "legacy" program and the newly revised program. As we were only interested in the most recent trends - that is, based on what has happened since the program restarted on September 1 - we excluded all legacy data from our analysis. Also, while system costs are often reported in dollars per DC or Nameplate Watts, we don't believe that provides much insight into the quality of the systems being installed. For that reason, our system costs are based on dollars per CSI AC Watts.
Outlier - A.S.E.S. Electrical Group, Inc.
(aka American Solar Energy Solutions)
As was the case with our analysis of the CSI data, it is informative to go hunting for outliers in this early data. This is especially important since these applications are still being reviewed and DWP staff is in a position to push back against any of these applications that appear to grossly exceed expectations.
We filtered the data to only include residential projects from the new program. We additionally excluded any company that did not have 20 or more kilowatts of project applications pending. Finally, to try and isolate sold systems only (as opposed to leased) we required the system owner to also be residential. As filtered, our remaining data accounts for 133 of the 239 total residential projects in the dataset. Here's what we found: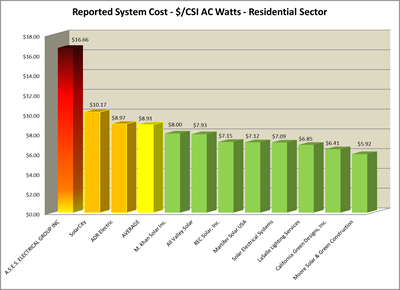 Now what is going on here? A.S.E.S. Electrical Group, Inc., is installing three systems for a total of 35.9 kW at a total cost of $597,500 or $16.66/Watt! (This makes our lead outlier in the CSI data - Galkos Construction, Inc. - look like a real slacker.) From the data, A.S.E.S. (not to be confused with - or was that the intent? - the American Solar Energy Society which is commonly known by the acronym ASES) appears to be planning to use Schuco panels. Although the data does not reveal the precise model Schuco panel they are proposing, a quick search online for Schuco panel pricing suggests that Schuco panels can be purchased for somewhere in the range of $2.00 to $2.28/Nameplate Watt, retail. If we apply the nameplate to CSI derating factor that appears in the data for the A.S.E.S. projects, that works out to a retail price average of $2.61/CSI AC Watt. Where is the remaining $14/W going? And why would any residential customer choose to have an installation performed at a cost nearly twice the local average?
We hope staff at DWP will take notice of these results and give some serious thought to imposing cost caps to protect their customers.
You can read our complete report - including our analysis of the residential and non-residential program segments - at our blog: Early Trends from LADWP's SIP Restart.