In the residential solar marketplace there are two technology choices for inverters - conventional string inverters like those made by industry leader SMA - and microinverters - like those made by Enphase Energy. A solar PV system using a string inverter typically has only one inverter for the array and one or more series strings of PV panels are wired to that inverter. String inverters are large, typically heavy boxes that are mounted on the wall. For example, here is a picture of an SMA 4000US inverter mounted on the north wall of our customer's garage: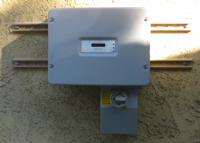 (Interestingly, you see no conduit coming into or out of this inverter because we were able to bring all the conduit into the back of the disconnect through the garage wall, leaving a very clean installation.)
The string inverter requires all of the panels to be closely matched with preferably identical pitch and azimuth. The inverter handles a great deal of power which means that it gets hot. If exposed to direct summer sunlight, it gets even hotter. String inverters, like this one, typically have electric fans to provide additional cooling - but that creates another possible failure point for the inverter. String inverters come with ten year warranties.
The microinverter is a very different approach.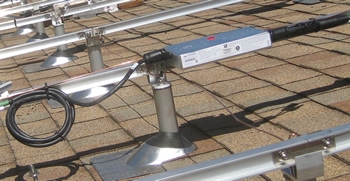 Microinverters, like these from Enphase, mount underneath the solar panels, so there is no large box to mount on a wall. Since there is one microinverter per solar panel there are no mismatches, portions of the array can have different orientations without difficulty, and most importantly, the problem of shading is greatly reduced. Those advantages come at a price - a microinverter system will typically cost 6-13% more than a string inverter system.
The question is - in the real world, is it worth that cost?
At Run on Sun we are starting to see some answers to that all-important question - and the answer is YES! We have been monitoring three of our Enphase installations and compiling our data to see how the actual energy produced tracks with the predictions that we made based on the CSI calculator and our Solar Pathfinder analyses at these sites. (In other words, the same prediction that the utilities make in calculating your rebate.) Here's what we have seen so far:

For the three systems combined, we are seeing nearly a 17% improvement in energy yield overall - with a peak exceeding more than 50% improvement. While these results are still preliminary - after all, the oldest of these systems has only been in place for 8 months and none of them has yet gone through a summer season - we are very encouraged by our data so far.
Bottom line - if you need to maximize your system's yield and/or are constrained at your site due to substantial shading issues, a microinverter system could well be the best choice for you. At Run on Sun, we can help you evaluate the trade-offs and whichever way you decide to go, provide you with the best possible solar PV system. Oh, and did I mention, all of our principals are NABCEP Certified Solar PV Installers™?